Saint-Petersburg and environments
Whether you have already been to Saint-Petersburg, or this will be your first visit to the city of Peter the Great and Dostoyevsky, we will create for you your own individual tour, which you will never forget.
Saint-Petersburg is the city of White Nights in summer and White Days in winter, the city is magic in every time of the year, and each time of day and night has its special, unforgettable charm.
For two centuries Saint-Petersburg was the capital of the Russian empire. There are over 400 palaces in the city, only part of them is open for visitors. If you are fond of arts, we will organize for you a special architectural tour in Saint-Petersburg. You will see unknown and rarely visited palaces that are open only at special request.
Saint-Petersburg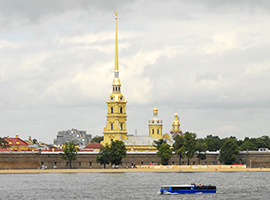 As you know, Saint-Petersburg is the cultural centre of Russia. The most demanding art connoisseur will be fascinated by gems of Russian and world art that were collected for centuries by Russian czars and carefully preserved in the 20th century by art historians.
The Hermitage with its unique collections of Western-European art and fascinating gala rooms of Russian emperors; masterpieces of Russian art in the Russian museum; the unique Small House of Peter the Great, which was built with participation of the czar himself; St.Isaac's Cathedral, the 3rd largest dome cathedral in the world, decorated with frescoes, mosaics and precious stones; the first cathedral and the symbol of the city - Peter & Paul Fortress.
Around Saint-Petersburg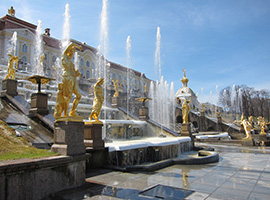 "Russian Versailles" – Petrodvorets, world-famous for its fountains, Imperial country palaces in Pavlovsk and Tsarskoe Selo – these are only a few of the artistic gems that you will see during your visit to Saint-Petersburg.
Czars, architectural styles, traditions followed one another for 3 centuries, but there has always been something that united different epochs and styles: the impression of wholeness, architectural taste, elegance and special atmosphere of Saint-Petersburg.
You will feel this very well during you trip to Saint-Petersburg.
We are happy to live in one of the most beautiful cities in the world and our aim is to show you the spirit of the city and its true, internal life.
Highlights
Special offer
News