Log house of Peter the Great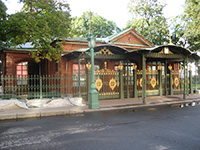 Log house of Peter the Great is one of the first constructions in the city. It was built in May 1703 not far from Peter & Paul Fortress, so that the tsar could control the construction of the fortress. The house was built only in three days by the soldiers, and they say that Peter himself participated in the works.
Log house of Peter the Great is different from all other museums that you will visit in Saint-Petersburg. Inside you will see Peter's cabinet, dining room and sleeping room. It is the only wooden construction of the beginning of the 18th century in the city.
To preserve it, Catherine the Great ordered to construct a brick case around the Log house.
Highlights
Special offer
News